Design Considerations
For an optimal wind plant design
Offshore requirements
As we now explore the new market of large scale offshore wind turbine plants, the cornerstones of design and drivers has changed compared to those driving the early design choices. Therefore the foundation for design has shifted where new drivers for offshore technology are challenging the existing design path, possibly being close to its limit for reducing costs further. Offshore specific design drivers needs tailored applications like:
transportation and installation processes with high cost
electrical grid system are traditional ad-hoc systems and provides low to no redundancy
simplicity, service ability and component access – cost of every service hour offshore of much higher impact between labor, equipment and infrastructure
turbine access becomes a design driver – up to 50% weather delay in North Sea environment by ship
industry challenged by reactive operational strategies, resulting in costly equipment and repair
With this new environment, there is a renew foundation for the 2-bladed rotor design as many of the early conditions against the 2-bladed concept now are much more aligned and can instead mitigate risk as well as reduce cost.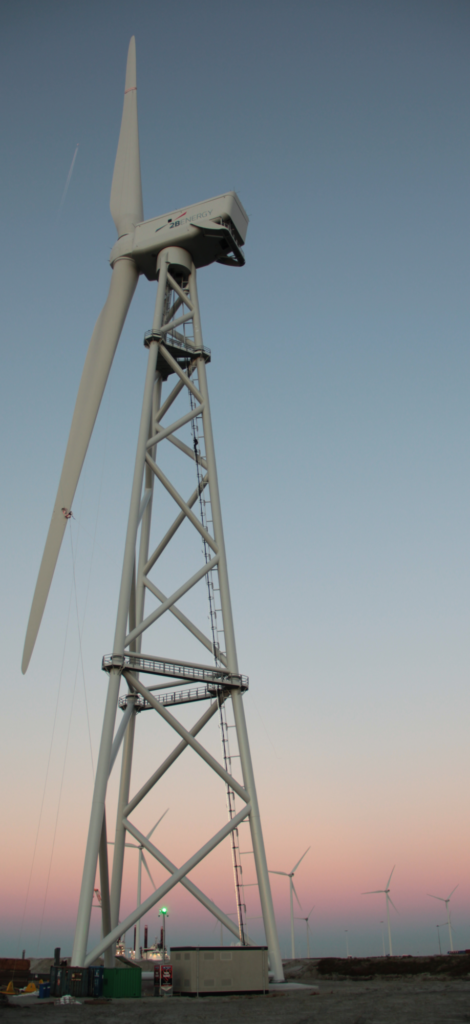 The new market in combination with new turbine size class opens a new chapter in wind technology and path for the 2-bladed rotor design where risk can be better mitigated and cost savings can reach further. The various new design choices in the 2B6 truly bring opportunity and greater optimization potential, compared to the well-optimized 3-bladed wind turbine used in the market place today. The introduction of the 2B6 will be a design to re-introduce some of these technologies and opportunities. With an overall project perspective and Power Plant view, the 2B6 offers a true potential yet to be discovered for offshore wind where cost of energy is likely to reach well beyond normal cost reduction boundaries by conventional technology.